Wizzcad on BFM Business talking about its upcoming job openings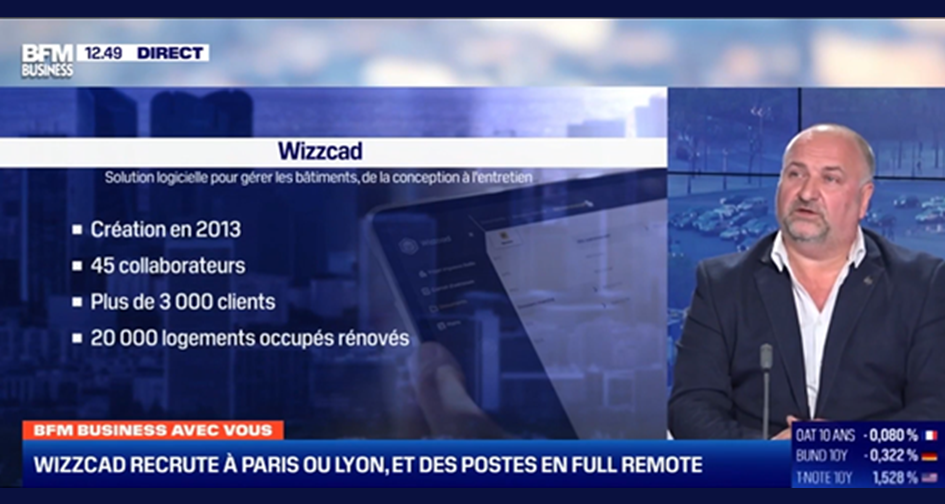 Wizzcad on BFM Business talking about its upcoming job openings
Wizzcad is hiring in Paris and Lyon to maintain its growth
WIZZCAD was on BFM Business to talk about recruitment and new employees onboarding process
Marc Germain, WIZZCAD Director and co-founder was Claire Sergent guest on the show 'BFM Business avec vous' to talk about several upcoming job openings in Paris and Lyon.
It was also an opportunity to discuss the desire to recruit international profiles for future development abroad.
Twenty positions will be created in 2021, at least (permanent and internship), with the possibility to work remotely (full or partial remote). Indeed, several employees are already working 100% remote at WIZZCAD. These are mainly developer profiles whose job requires special working conditions. Marc Germain is also thinking about international profiles that should soon become part of this adventure and could be required to work remotely.
Marc Germain explained the onboarding set up at WIZZCAD, based on a clearly identified needs specification and on processes spread out over time, at 5, 15, 30, 60 and 90 days, to support and train future employees.
You are a talented, enthusiast and determined to join one of the major players in the digitalisation of construction and real estate industry? To know more about our top prior job offers:
Boosting the digital transition of the construction and real estate industry
Founded in 2013, WIZZCAD is a solution publisher that makes life easier for those involved in construction and real estate. Thanks to its collaborative platform, you can communicate efficiently with all parties involved in a project. In addition, the solution provides traceability of information, plans and data of a project, in real time, to save time and costs during its successive phases (from design to operation-maintenance). More than a software solution, WIZZCAD offers real support for implementing change, with training adapted to companies' needs. WIZZCAD has currently 45 employees with more than 3,000 clients and 14,000 projects completed.